News
Now showing 15-20 of 23 result(s)
February 24th, 2015
The Kismet Foundation: March 2015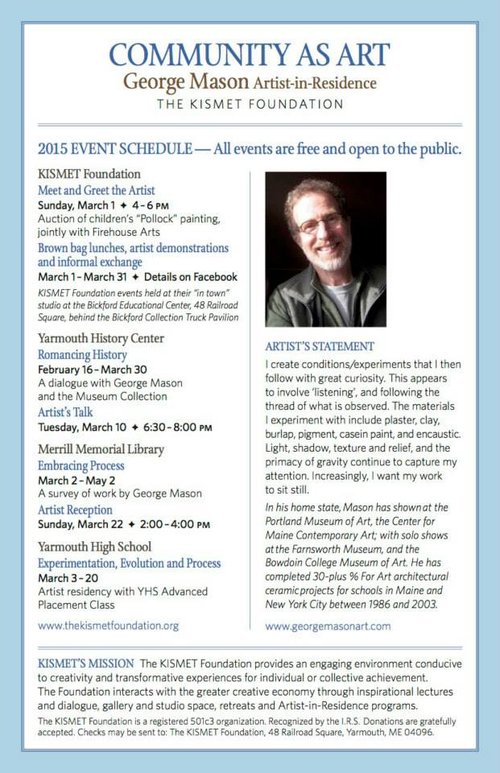 December 11th, 2014
Artistic Experiments and Chamber Music
http://www.boothbayregister.com/article/artistic-experiments-and-chamber-music/44577
November 1st, 2014
The Dilemma of Memory: The Holocaust and Human Rights Center
art current: The Dilemma of Memory

Freepress Online

... on paper by Dorothy Schwartz, as well as poems by Tony Brinkley, Mark Melnicove, Lee Sharkey, Martin Steingesser, and Anna Bat-Chai Wrobel.
June 22nd, 2014
Upcoming Installations, Shows, and Event 2014
summer14.pdf Open for opportunities to see work this Summer and Fall
Directions to George Mason installation of large freestanding relief tapestries at Beech Hill Preserve:
Take Route 90 towards Camden until light at Route 17 intersection. Take right on Route 17 heading towards Rockland. Take left on Meadow about 1/2 mile later. Hard to see on left, just past trailer on left. Then take right on South Street in 1/4 mile. Follow up hill for about 1 mile. Take left on Beech Hill just beyond farmhouse that is close to the street and has red trim, and look for Beech Hill Preserve parking on right about 100 yds. beyond. Park. Follow trail to top of hill, a 15 minute walk. Thats where Beech Nut "Hut" is located and where the installation is on view just for you!