News
Now showing 1-5 of 25 result(s)
July 25th, 2020
New Works on View by George Mason
Dear Friends,
In this unusual time, my new work is on the walls but there are few eyes to view it!
Consider helping me complete my creative cycle by allowing this work the opportunity to nourish you.
Saturday July 25th from 9 to 5.
123 Borland Hill Road
Damariscotta Mills
Nobleboro, 04555
November 30th, 2017
George & Susan's FESTIVE Holiday Open House & Studio Sale
Saturday December 9th and Saturday December 16th; 10 to 4pm
Food and Refreshments... Please Stop By!
123 Borland Hill Road, Nobleboro, Maine 04555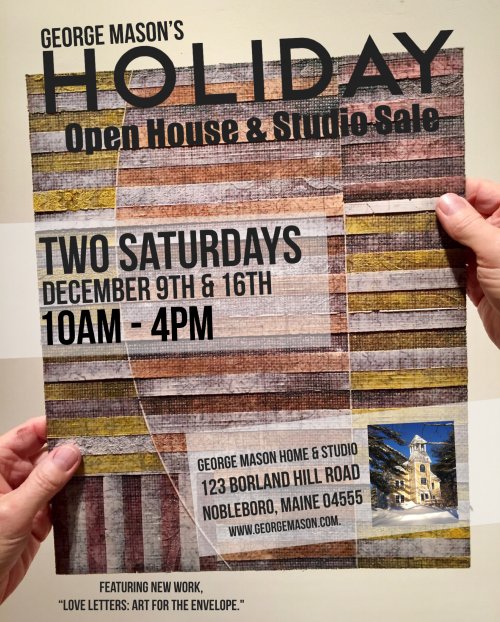 October 17th, 2017
Exhibition: "Refuge" at UMA Danforth Gallery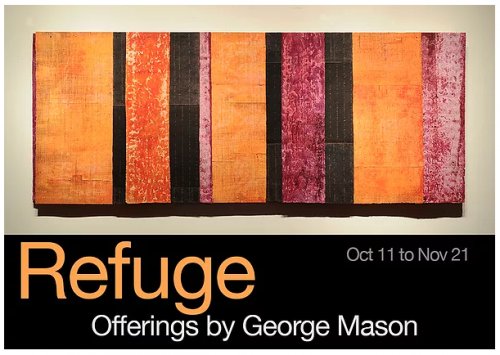 Exhibition:

October 11—November 21, 2017
Gallery Demonstration :

Thursday, October 26th— noon-2pm
Artist Talk and Performance Dinner:

Wednesday, November 1— 4:30-7pm
October 17th, 2017
Exhibition: "America Now, A Dialogue" at HHRC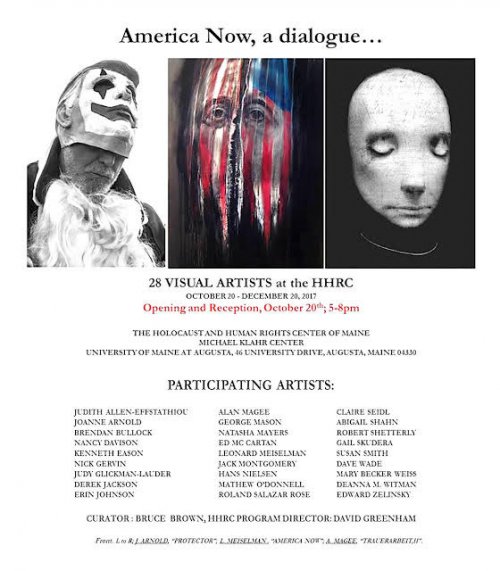 "America Now: A Dialogue"
Holocaust and Human Rights Center of Maine UMA at Augusta
Exhibition: October 20, 2017 - December 15, 2017
Opening Reception: October 20, 2017, 5 - 8 p.m.
| | | | | | | || | | | | | | | | | | | | | | | |
America Now, a dialogue…
A group of artists, living and working in Maine, is coming together to mount a group exhibition entitled : AMERICA NOW.
This exhibition is focused on artistic creativity in a country divided against itself and considers the purpose and function of the arts in times of social and political stress.
This exhibition is hosted by the HOLOCAUST AND HUMAN RIGHTS CENTER of Maine (HHRC) and will be displayed ONLINE at this website , and at the Center, University of Maine at Augusta.
This group show will include paintings, prints, photographs and installations and is Curated by Bruce Brown.
It is mounted under the direction and with the encouragement of HHRC Program Director David Greenham.
We, the artists, consider this work to be in the nature of a dialogue, and we invite you to join us.